The ROTHAMSTED CENTRE FOR RESEARCH AND ENTERPRISE, located in the beautiful Hertfordshire countryside, served by excellent transport links to London and the rest of Europe.
RoCRE is just 10 minutes from London Luton International Airport and 25 minutes from London St Pancras International.
Rothamsted Centre for
Research & Enterprise
West Common
Harpenden
Hertfordshire
AL5 2JQ
UK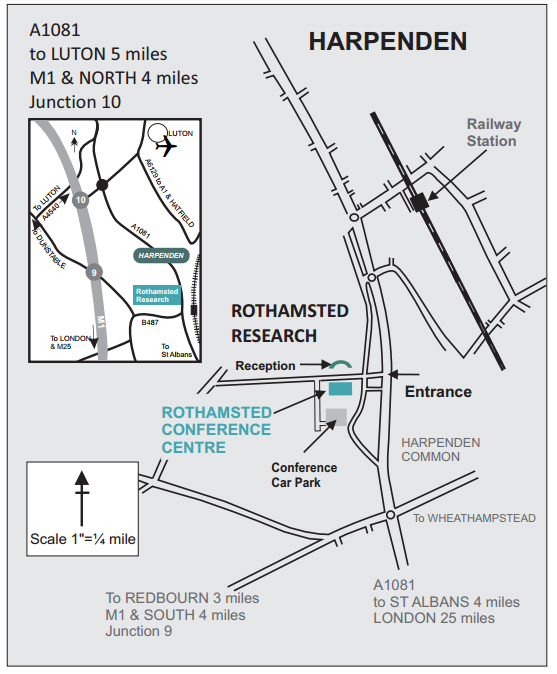 ROAD
Harpenden is about 7 miles north of the M25 London Orbital Motorway and close to Junctions 9/10 off the M1. From Junction 9 follow the signage to Redbourn, then Harpenden. From Junction 10, take the A1081 to Harpenden. Free Car parking is available for users of the Rothamsted Conference Centre.
RAIL
Harpenden served by ThamesLink, providing the direct access to London Luton Airport (one stop north) and London Gatwick Airport (approximately 1hr 10 m on a limited stops train). ThamesLink running frequent and fast trains through Central London. Suburban services stop at all stations on the route, while express services stop at St Albans City before continuing non-stop to London St Pancras International. Fast train journey to London (Harpenden to London St Pancras International) takes 25 minutes.
AIR
London has five international airports. If you are flying into the capital to attend an event at LSUS, we recommend using London Luton Airport, as it is less than 10 miles from the venue. From London Luton Airport, it takes just 20 minutes by taxi or 10 minutes by train (ThamesLink) to get to RoCRE.
Directions to Harpenden from London international airports: