FETAL NEUROSONOGRAPHY and CNS ANOMALIES: The Practical Approach
FETAL NEUROSONOGRAPHY and CNS ANOMALIES: THE PRACTICAL APPROACH ONLINE COURSE
Saturday, 20 February, 2021
15:00 – 18:30
3 PM – 6.30PM (GMT)
Sunday, 21 February, 2021
15:00 – 18:00
3 PM – 6.00PM (GMT)
TOPICS: Neurosonography, Anomalies
SYSTEMS: Brain, Spine, Face
LEVEL: Basic, Advanced, Expert

Prof Luc De Catte 
Head of Fetal Medicine Department
University Hospitals UZ
Leuven, Belgium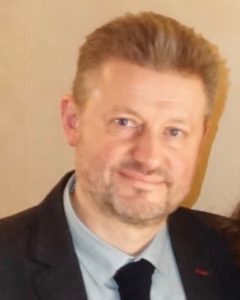 Dr Fred Ushakov
International Lecturer in Ultrasound and Fetal Medicine
Specialist in Fetal Medicine,
University College London Hospital (UCLH), UK

Dr Michael Aertsen
Сonsultant pediatric radiologist
Fetal MRI Specialist
University Hospitals UZ
Leuven, Belgium
FETAL NEUROSONOGRAPHY and CNS ANOMALIES: THE PRACTICAL APPROACH ONLINE COURSE
Saturday, 20 February, 2021
15:00 – 18:30
3 PM – 6.30PM (GMT)
Sunday, 21 February 2021
15:00 – 18:00
3 PM – 6.00PM (GMT)
The fee includes: 2 days of Admission to the lectures and personal access to the recordings for two weeks
Fetal Neurosonography Course 2020
Fetal Neurosonography Course 2019
Fetal CNS anomalies are common, variable and in many cases can result in poor neurological outcome. Many of the brain anomalies are associated with chromosomal, genetic and other syndromes. Precise fetal neuroimaging, especially neurosonography, is absolutely essential for proper diagnosis, counselling and management. In some cases fetal MRI provides additional and exceptional information which has significant clinical impact.
Our advanced Fetal Neurosonography and MRI Course will provide a comprehensive, critical and updated review about contemporary fetal neuroimaging and a wide spectrum of CNS anomalies. The new MRI session has been added to the program.
Our previous Fetal Neurosonography Courses (2018, 2019 and 2020) were very successful and have received many positive reviews due to our unique uncomplicated and practical approach. The current Fourth edition of The Fetal Neurosonography Course (2021) is going to be virtual this year.  It will provide the clear guidelines to the delegates: how to detect CNS anomaly and what to do after.
The course will include lectures, discussions of complicated cases and a quiz. A significant part of the course will deal with technical issues of practical Neurosonography and improvement of the visualisation of the brain. Our presentations include hundreds of videos of common and rare brain anomalies.
Two days with three internationally known experts in fetal medicine, ultrasound and MRI. Fetal Neursosonography and MRI Course is the essential course for every ultrasound and fetal medicine specialist.
Saturday, 20 February 2021
Introduction:
Clinical importance of CNS anomalies
Current limitation of knowledge
Normal neuroanatomy:
Developmental landmarks
Optimal time for ultrasound of the CNS
Examination of the brain: protocol and tips and tricks
Screening examination of the brain (ISUOG 2020)
Advanced Fetal Neurosonography
3D and Transvaginal Neurosonography
MRI of fetal brain: general aspects
Intracranial cystic lesions
Posterior fossa (PF) cysts
Ventriculomegaly (VM) spectrum
Corpus callosum (CC), cavum septum pellucidum (CSP) and other midline anomalies
Prof De Catte / Dr Aertsen
Neurosonography and MRI: Pragmatic way of working together
benefits of the additional MRI
cases where MRI is a "gold standard"
cases where MRI has no additional value
Rare and very rare conditions:
1st trimester CNS anomalies
Cerebellar malformations
Malformations of cortical development (MCD)
Vascular malformations
Intracranial vascular incidents
Tumors
Skeletal dysplasias
other
Fetal Neurology Clinic: How it works
Role of multidisciplinary team (MDT) in management of CNS anomalies
The course will run in the new format. It will be worldwide online interactive ultrasound training course and the participants will have TWO week free access to the recording of the course via cloud service. It means that you can also register and attend the course as an offline event.
Language
The official language is English. No simultaneous interpretations will be available.
Online courses and certificates
Certificate of the course attendance can only be redeemed if the full course is live streamed at the time it is being presented.
Certificate cannot be received if the course is viewed once the course ends (on-demand recording).
For delegates who watched the course in real time and did not receive the certificate within a month time, please contact LSUS: contact@lsus.co.uk
While registered – you will receive the link with instructions to connect to the event.
The links for the RECORDINGS will be send in the NEW EMAIL two days after the end of the course.
Please note that the program will have 2 technical breaks for 15-20 min each
This program is subject to change without notice
Register for
FETAL NEUROSONOGRAPHY and CNS ANOMALIES:
THE PRACTICAL APPROACH
ONLINE COURSE
£90.00
The fee includes: 2 days admission to the lectures with personal access to the recordings for two weeks.  
Fully Booked
Status
WE DO NOT SELL TICKETS
175 Has Sold
Fetal Neurosonography (Virtual Edition 2021)
£90.00
The fee includes: 2 days admission to the lectures with personal access to the recordings for two weeks.  
Fully Booked
Status
WE DO NOT SELL TICKETS
175 Has Sold